CFRE International
Learn All About the Certification Process for Fundraising Professionals.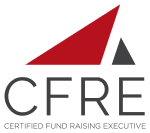 To see the recording you must log in or register
You're a smart, savvy fundraising professional committed to bringing your best to every aspect of your work. Learn how the Certified Fund Raising Executive (CFRE) certification can help you get the recognition you deserve while opening doors in your career.
Did you know 92% of CFREs say the certification has increased their on-the-job confidence? Or that CFREs in the U.S. earn on average 7 – 15% more than non-CFREs with comparable experience? (Source: AFP 2020 Compensation & Benefits Report)
As the only globally recognized, accredited certification for fundraising professionals, the CFRE signifies confidence, ethics, and professionalism.
During this free webinar recording you'll learn how becoming a CFRE can get you where you want to go.
Ashley Gatewood of CFRE International will walk you through:
Eligibility requirements
Filling out the CFRE application
Studying for the CFRE exam
Format of the CFRE exam
What to expect on exam day
Initial certification cost
Recertification