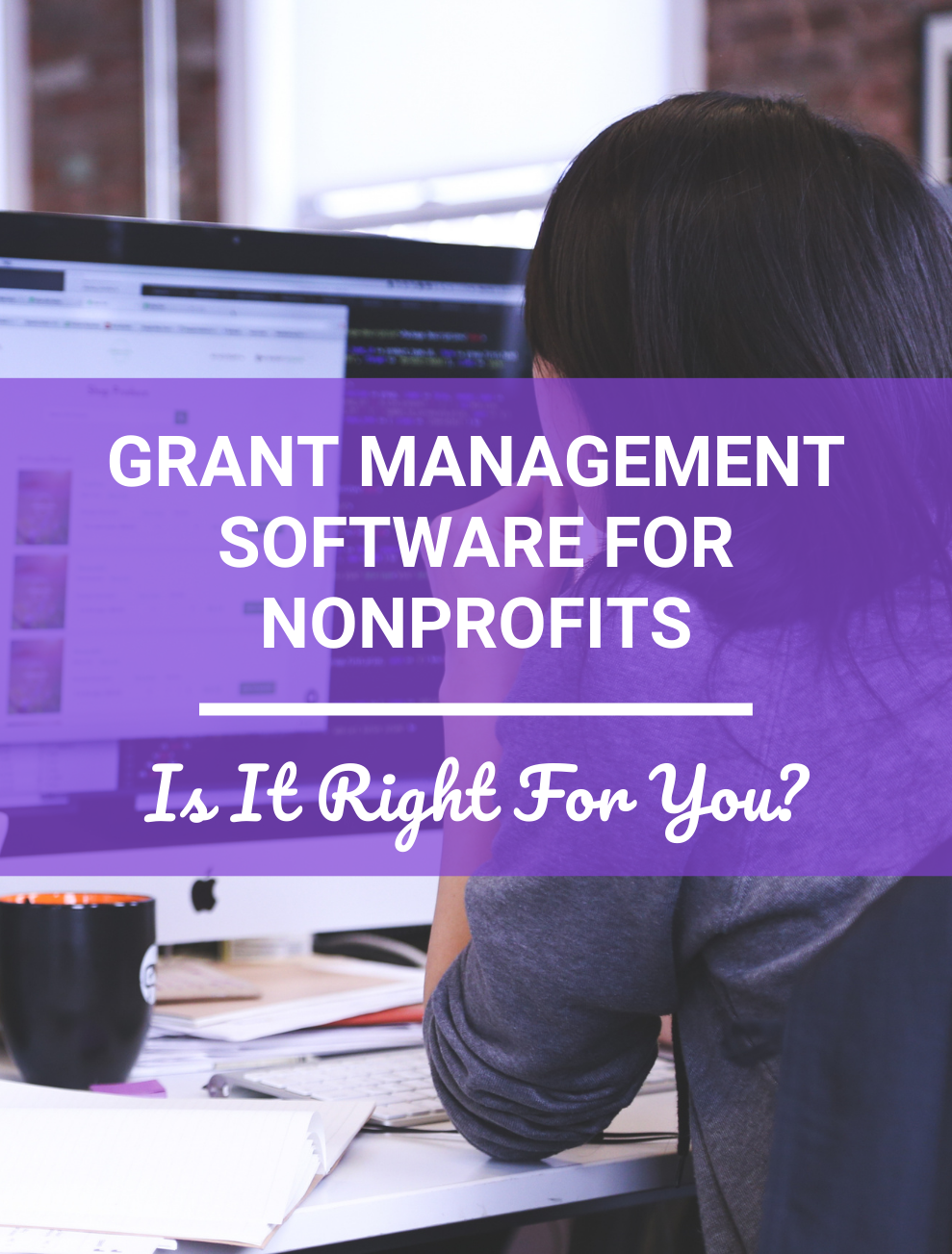 Grant managers are some of the least-sung of the unsung heroes of the nonprofit world. On top of the task of producing the magical and masterful writing that goes into getting a grant, they're mired in the dark recesses of research and recordkeeping.
That part of grant management, to (mis)quote an old adage, "is a tedious job, but somebody's gotta do it." Why not let that "somebody" be software?
Grant management software for nonprofits can free up your grant manager from the tasks that take up way too much time. Or handily support staff members who do the grant work without having a dedicated grant manager. And they're lifesavers in the case of a grant manager leaving, lifelines for new managers to tether themselves to during the transition.
WHEN IS IT TIME TO LOOK INTO GRANT MANAGEMENT SOFTWARE FOR NONPROFITS?
You love your trusty spreadsheets, but be honest — isn't the whole thing just getting a bit unwieldy?
There are a few things to consider when deciding if grant management software is right for your nonprofit.
Time savings:

Consider how many hours a month you spend searching through files looking for information about the grants your organization applied for last year. Or five years ago. Or how much time you spend researching information for your board about what grants you've applied for and where they are in the process. Or reminding colleagues about deadlines they need to meet so grant applications can be submitted properly and on time. If this is a pain point for you, grant management software is the way to go.
Growth:

If your organization applies for and/or receives 12 or more grants a year, grant management software can help keep things organized to ensure nothing is missed and everything is submitted on time.
Other things to think about:
Is your grant manager nearing retirement? Or likely to switch jobs?

Do multiple people need access to your grant data?

Have you ever missed a grant deadline or other important deliverable date? That is money lost.
Read on if you're ready to learn more about grant management software for nonprofits. But also register for our free and 100 percent pressure-free demo, "Grant Management for Grantseekers With Granthub at 1 p.m. eastern Thursday, February 17th.
SPREADSHEETS VS. GRANT MANAGEMENT SOFTWARE FOR NONPROFITS
So, back to those spreadsheets. They're hard to let go of, we know. But here are some reasons why you should.
 5 reasons you should swap your spreadsheets for grant management software

:
Limited organizational capacity.

Spreadsheets aren't designed to keep historical funder information at your fingertips. And entering it fresh every time you're looking to make a grant request just means more hours doing data entry and also running the risk of retaining outdated information. A grant management system has one, easily accessed place to store information about your past interactions with funders, making it easier for the grant manager to stay up to date and be best prepared to address  past and potential funders.

Unwieldy, especially as your files grow.

Spreadsheets start out deceptively simple — just a few columns for each of your handful of potential grants and funders. But as things get more complex and you're dealing with more entities, they can get out of hand as you keep track not only of deadlines but often multiple steps that need to be taken and information shared both before and after a grant is awarded.
And when multiple staff members are involved, sharing info quickly and consistently is virtually impossible with spreadsheets.
A grant management software system will allow you to track critical data on each funding opportunity — such as amount requested, amount awarded, proposal deadline, decision date, grant term, funding program category and current status. You also should be able to collaborate and work with your entire team, having everyone manage the tasks they are assigned.
No reminders.

Spreadsheets are great for analyzing data, performing complicated calculations or creating pivot tables. But not so much for sending automatic email reminders that keep you and your team on track — an important detail when one little email might be all that stands between you and a missed grant proposal deadline or follow-up. 

No capacity to store documents.

Spreadsheets can give you a snapshot of what information is available in pertinent documents, but they don't store the documents for you. Grant management software for nonprofits can organize documents according to task, grant and funder, make regular updates easy and make all documents easily accessible to anyone who needs them.

Analysis and reporting take extra steps, extra time.

Analyzing data stored on spreadsheets means creating separate reports, whereas grant management software can be set up to create and run those reports for you, quickly and accurately. It takes about the same amount of time to enter information into a grant management system as it does to enter it into your spreadsheet. But only the grant management system has the capacity to drill down into the data and put specific information at your fingertips almost instantaneously.
Imagine the time it would take to answer questions like who are your top funders for a particular program, what's your win percentage based on the amount requested or on number submitted or how many grant deadlines you have coming up next quarter and what they are — if all you could do is scour your data via spreadsheets.
UNDERSTANDING THE INVESTMENT IN GRANT MANAGEMENT SOFTWARE FOR NONPROFITS
It's an investment, no doubt. And spreadsheets are free or inexpensive. And nonprofits always have to weigh the cost of any investment against taking that money away from programs.
It might be easy to consider it a "waste" of resources to invest in a grant management system. But if you take the time to really calculate how many staff hours can be saved by investing in the system and how much more money can come in through grants if the process was efficient and streamlined, you'll find that in the long run, the system will free up more resources to help you meet your mission.
Ready to learn more about grant management software for nonprofits? Sign up here for our free and 100 percent pressure-free demo, "Grant Management for Grantseekers With Granthub" at 1 p.m. eastern Thursday, February 17th.